We may earn money or products from the companies mentioned in this post. please note that some of the links below are affiliate links, and at no additional cost to you, we will earn a commission when you use one of the links. The company pays us for referral link sharing, which helps us run this blog and give our in-depth content to our readers for free.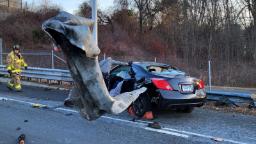 CNN
 — 

A motorist was "miraculously" left with only minor injuries after a car was impaled by a guardrail in Manchester, Connecticut, according to first responders.
The single-vehicle accident occurred on Interstate 384 Monday afternoon, according to a Facebook post from the Manchester Fire Rescue EMS.
The guardrail separated and then impaled the vehicle, says the department. Shocking photos included in the Facebook post show the guardrail protruding from the side of a black sedan.
The guardrail "traveled through the passenger compartment, between both front seats and then exited the rear, extending approximately 20 ft beyond it," according to the Facebook post.
The car's occupant miraculously suffered only minor injuries, Manchester Fire Rescue EMS said. The occupant was transported to a hospital by fire department paramedics.