We may earn money or products from the companies mentioned in this post. please note that some of the links below are affiliate links, and at no additional cost to you, we will earn a commission when you use one of the links. The company pays us for referral link sharing, which helps us run this blog and give our in-depth content to our readers for free.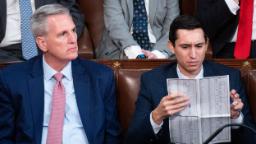 Updated 2347 GMT (0747 HKT) January 03, 2023
Produced by CNN Digital's Photo Team
For the first time in 100 years, the election for House speaker has gone to multiple ballots.
And after three rounds of voting Tuesday, Republican leader Kevin McCarthy wasn't able to secure the support needed to win the speakership. The House is now adjourned until noon on Wednesday following the failed third vote.
The obstacle for McCarthy, who has defiantly vowed to stay in the race, is that he faces a small but determined contingent of hardline conservatives. The group is using the leverage they have in the razor-thin Republican majority to extract concessions as they threaten to deny the GOP leader critical votes.