We may earn money or products from the companies mentioned in this post. please note that some of the links below are affiliate links, and at no additional cost to you, we will earn a commission when you use one of the links. The company pays us for referral link sharing, which helps us run this blog and give our in-depth content to our readers for free.
As citizens continue to search for the elusive new naira notes, IFEDAYO OGUNYEMI writes of why Point of Sale (POS) agents charge exorbitant fees for withdrawals. Additional reports provided by Funmilayo Aremu, Vincent Kuraun and Faith Adesanya.
A large number of frustrated and helpless customers had besieged the branch of a new generation bank located at the Challenge area of Ibadan, Oyo State, on this sunny Monday afternoon. Their goal was to gain entry into the bank for different purposes.
It is believed that whoever approaches a commercial bank is either on a mission to make a deposit, withdrawal or rectify an issue relating to their bank accounts, among other rare circumstances, particularly at a time when banks are rationing cash amid the scarcity of banknotes which has turned many branches of commercial banks to a mecca of sort.
Frustrated by lack of access nationwide, residents throng commercial banks in search of banknotes including the newly-redesigned N200, N500 and N1,000 notes. In this quest for enough currency, many Nigerians get to banks as early as 4:30 a.m. to beat long queues and waiting time.
While at this commercial bank, Sunday Tribune observed that a few other customers who couldn't muster the strength to struggle for space and right of way into the banking hall waited around the one-room bungalow housing security operatives attached to the said bank.
Among those loitering between the security post and the bank's main building were about six Point of Sales (POS) agents. What set them apart from those struggling to gain entry into the banking hall is that they seemed uninterested in getting inside the bank.
Sunday Tribune reporter recognised one of them. She operates a POS outlet around the Felele area of the state capital and close to a checkpoint usually mounted by policemen on the Felele-Express junction. Two others were engaged in a discussion about the different times their machines malfunctioned and they lost some money in the process. One of them held a POS machine as he explained to the other.
After hours of waiting around the cacophony of voices of angry customers seeking answers to their cash problems, among others, a bank staff member exits the bank's main building. In one of the female banker's hands was a wad of naira notes covertly wrapped in a white paper.
As she wriggled her way through the midst of customers who had fully covered the entrance of the bank, the gloomy atmosphere around those hanging behind the security post suddenly changed. The POS agents swiftly rose up from their seats and leaning positions.
They followed her to the bank's car park and away from the sight of other customers. Before Sunday Tribune could join them to ascertain what was happening, the bank's staff member was on her way back, leaving the POS agents to share the notes among themselves.
Their demeanour changed after sighting Sunday Tribune looking at them. They must have thought the reporter was a customer who may reveal their secret activities to other customers who equally came in search of cash.
Later that day when Sunday Tribune approached the POS agent he recognised from the bank to make enquiries about cash withdrawals at her Felele base, she charged N300 per new N1,000 note. When another customer asked why she charged high commissions for those withdrawals, she attributed it to the stress of acquiring the notes.
A few weeks earlier, she had charged her customers N200 per N1,000. One of those who attempted to withdraw N5,000 told Saturday Tribune that she left the agent's shop annoyed after she was asked to pay N1,200 as commission.
This is similar to experiences of many who continue to make withdrawals at POS stands nationwide. One of those instances was captured in a viral video in February where customers berated a POS agent who charged them N4,000 commission on N10,000 withdrawal.
"How can you charge N4,000 on N10,000? This is wickedness. Are you a criminal? We will not allow you to stay here today," one of the residents said in anger as others demolished the POS operator's stand.
Naira redesign policy, scarcity
Before now, POS agents charged N100 per N5,000 withdrawal, between N150 and N200 for N10,000. Now, residents pay between N200 and N500 for every N1,000 cash withdrawal at POS points; only a few presently charge N100 per N1,000.
Many people, including POS vendors, attributed the high charges to the scarcity/low circulation of naira notes following the ban on the use of old N200, N500 and N1,000 as legal tenders in the country as announced by the Central Bank of Nigeria (CBN) as part of its demonetisation policy.
An analysis by Sunday Tribune shows that any POS agent who charges N100, N200, N300, N400 or N500 on every N1,000 transaction, will only get N10,000, N20,000, N30,000, N40,000 or N50,000 on every N100,000 cash dispatched. Their profits will now be determined by how much was used to acquire the N100,000 cash in the first instance.
Based on Sunday Tribune's findings, POS vendors are charged N10,000, N15,000 or more for N100,000 they receive from their various sources including filling stations, bank officials, and traders. The eventual charge depends on the bargaining power of the vendor and is also influenced by other vendors' search for the same cash and the relationship between both parties.
Even though new N200, N500, N1,000 notes were introduced last December and coupled with the pronouncement of President Muhammadu Buhari ordering the use of old N200 notes alongside the new notes, Nigerians have continued to bear the brunt of the scarcity of the naira notes that came with the policy. Many argue that the implementation is causing untold hardship on residents.
Giving updates on the efficiency of the policy, the CBN said it successfully mopped up N1.91 trillion in circulation in three months from the N3.29 trillion recorded in October 2022 to N1.38 trillion by January 2023. The CBN governor, Godwin Emefiele, said the policy would further help to drive a cashless economy and control inflation, among other things.
To access cash nowadays, Nigerians across the country go through harrowing experiences. It's either they endure long and terrifying queues at banks and Automated Teller Machine (ATM) points or they pay through their nose to get naira notes from POS vendors.
Threats of arrest
At the height of lamentation regarding the high commissions charge on withdrawals by POS vendors, the CBN accused the POS agents, unscrupulous bank officials and residents of sabotaging its new naira note and demonetisation policy.
While speaking to journalists at the Federal Ministry of Foreign Affairs in Abuja recently, Emefiele said: "PoS agents who are supposed to help are getting involved in these activities.
''We have EFCC, ICPC working with our monitoring team to arrest any POS agent that charges any fee because we have made it clear that whatever is their fee, which is not meant to be more than N200 for any amount you exchange that we, CBN, will pay as part of our efforts to lessen the burden of this problem."
The apex bank also asked residents to report any POS agent involved in the selling of new naira notes or those charging high commissions on transactions to its contact centre and its social media handles.
In a related development, the Independent Corrupt Practices and Other Related Offences Commission (ICPC) arrested seven POS operators and a security guard in Osun State for charging exorbitant commissions for cash transactions.
The agents were said to have got the money from filling stations that collected new notes from people who bought fuel, but resold the cash to the public at exorbitant rates.
Similar operations were carried out by ICPC in Cross River State and other parts of the country in conjunction with operatives of Economic and Financial Crimes Commission (EFCC), Department of State Services (DSS), among others.
In spite of the threats of scrutiny and arrests by security operatives, there appears to be no end in sight to the exorbitant charges on POS transactions as Nigerians continue to wait on the government and the CBN for the adequate circulation of naira notes.
According to the Association of Mobile Money and Bank Agents in Nigeria (AMMBAN), about 80 per cent of 1.5 million POS agents/mobile money operators are affected nationwide by the inability to get enough cash to service their businesses.
AMMBAN's National President, Victor Olojo, described the threats of arrests by CBN and eventual arrests of agents overcharging residents by security agencies as laughable.
He said: "If the government is saying it wants to clamp down on agents, it is very laughable because since the whole issue started, the government and CBN have been pushing the blame onto others; from bankers and then money agents."
He further accused the government of failing to address the causes by introducing more notes in circulation, adding that such a move will go a long way in easing the sufferings of Nigerians.
"Our stance is if this money is available in the first instance, there will be no need for people to buy naira. At some point, we gave directives to our members to stay away from it so they don't further implicate themselves.
"But the reality is that agents have gone out of their way to help Nigerians to save their lives. The banks are not issuing enough money, ATMs are not, so many people now rely on agents even as we speak.
"So I am surprised when the government is just looking for those to push the blame on. This is a failed government policy. Let's call it what it is. What we are clamouring for is that at least now that the Supreme Court has ruled, can we get this money back to Nigerians? Can we reduce this suffering?" Olojo said.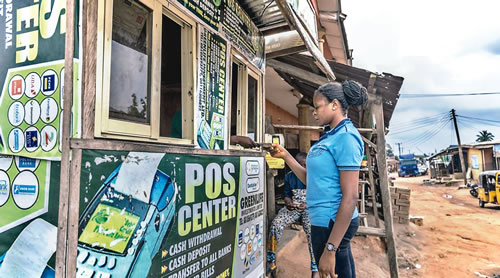 Demand for exorbitant charges still persists
Checks by Sunday Tribune also showed that the few POS vendors still in operation continue to charge exorbitantly and don't have enough cash to go round.
Those who spoke to Sunday Tribune in Lagos, Ogun and Oyo states said they charge customers high commissions because they equally pay high charges to get the cash from bankers, traders, filling station attendants, among others.
Speaking on the ease of getting cash to service the POS business, Balikis Jimoh, a manager of a couple of POS outlets in Abeokuta, the Ogun State capital, told Sunday Tribune she only operates now whenever she's able to get cash at costs that don't affect her business.
She recalled how she persistently begged one trader to take N5,000 as commission for N100,000 cash, adding that the going rate is nothing short of N10,000.
She equally bemoaned the stress that she and other Nigerians go through to get cash in order to get by while recalling the death of a man in the Oke-Ata area of the state capital while queuing at the ATM point in search of cash.
"We can't even operate anymore. I have closed down my kiosks because of the difficulties in getting cash. What I do now is to beg people who bring cash to buy foodstuffs and fuel in order to get their cash and it doesn't come free of charge.
"We buy from people at filling stations and also from the officials of some of these filling stations. Imagine getting N100,000 cash and paying N15,000 as charges, you will be forced to charge N200 commission on every N1,000 transaction while others charge N200 or N400. There are staff salaries, rents to pay and papers to buy. Those are the things that make it really difficult.
"If not that I have an existing business that I run alongside the POS business, I'll be at home. That is the only thing I'm doing right now. I used to funnel the cash I get from my flour business into the POS but it isn't that possible anymore because people don't even bring cash to buy. It's just difficult to survive," she said.
Another vendor, Saheed Akanni, who Sunday Tribune spoke with in Obada area of Abeokuta, had just dispatched the set of cash he earlier got from a nearby wholesale poultry outlet when Sunday Tribune met him on Wednesday morning.
"I had held on to a N1,000 note for myself before my colleague pointed me to a woman who came here very early but couldn't get cash. I had to get another N1,000 to give her N2,000. As of this moment, I don't even know how I'm going to feed today," he disclosed.
He further said: "People come here as early as 5:00 a.m. to queue for cash. I am lucky to get cash from my boss here which I use for the POS business. And when I run out of cash, that's final. People who couldn't get cash will return home lamenting. It's just a serious situation for us all."
When asked about the high commissions POS vendors charge, he said: "Most of the agents you see out there have to buy those notes with them and a business is expected to break even. I really don't blame them.
"I charge N100 on every N1,000 transaction. The other person whom I get cash from is now telling me he'll charge me extra, I will have to factor that in going forward. They are charging extra because there are people willing to pay more than I do for that cash."
Others have equally gone at length to get cash from which they assist to ease the suffering of Nigerians while they make ends meet. A vendor, who spoke to Sunday Tribune in Ibadan on the condition of anonymity, said he queues at ATMs for cash, and on days when he doesn't get much from the ATM, he goes to the filling stations to approach cars whose drivers are about to buy fuel with cash, pay with his own card and return the receipts to them so they can present and get fuel when it is their turn.
Another vendor whose shop is located at the University of Ibadan (UI) gets cash from her friend who works in a bank. By doing so, she doesn't get to join long queues at ATMs.
"Anytime I needed cash, I would send the money to her and at the close of work, she would bring the money to me," the vendor told Sunday Tribune. "I don't have to pay extra for it, but other POS operators advised me not to collect the standard charges from people because it would bring more people to me and they would run at a loss."
She added that, "I don't get much cash from my friend. I usually get a minimum of N10,000 per weekday. So, I charge N100 per N1,000."
"Most times, my loyal customers would have demanded certain amounts with me before I got the cash. So I end up not having any for other potential customers. I also need the cash, so, I am only able to give out at least N6,000 per day. I don't have the strength to queue under the sun for cash, so I stick to what works for me."
Another mobile money agent who operates at Orogun, Toun Adebola, deploys her three apprentices to ATMs to queue for cash before they resume at the workstation daily. "Even if it is N2,000, but if they don't get cash, it is not a must," she said.
"I sell clothes and many people prefer to make purchases with their cards. Some people still bring cash, so I get to use that for the POS business.
"It is actually very difficult to get cash, so that is why I charge N200 per N1,000. I split the profit with my apprentices since they also help in getting the cash. I don't allow them to queue for too long actually, they are usually one of the first to get to the ATM and that way, they can get cash and come to work early," she added.
For Olaitan Sodiq whose outlet is located at Orogun along the Lagos-Ibadan Expressway, he transfers money to a friend. "I don't know where he gets the cash from, but I have to pay him N100 per N1,000, so I charge N200 per N1,000," he said.
"On days when he doesn't have cash, I just go to the bank and queue at the ATM. I sometimes go with my brother who also joins the queue. If I am able to get N5,000 or N10,000, I combine that with whatever he gets so that we can give it to people who come to use the POS," he added.
Olaitan and his brother would rejoin the queue just to get more cash at the ATM.
"If it were easy to come by, we would not place such high charges on it," he said when queried by our reporter.
In Lagos, Sunday Tribune learnt that mobile money agents also visit all sorts of places such as markets, filling stations and abattoirs in search of cash.
Explaining how he gets by, a POS operator in Lagos, Mr Nicholas Olorunda Yamah, said: "We make special arrangements with owners of such businesses. For instance, some fuel stations around still insist on getting cash from their customers. We arrange to meet with them at the close of business to pick up available cash with interest depending on your bargaining power.
"We also get money from our friends. If a friend gives me N5,000 cash, I transfer N6,000 to his account. A few people still send cash to their loved ones when we open for business.
"We also visit markets to negotiate with market women, meat sellers, shop owners to get cash. There are big superstores we visit depending on our relationship with the owners. Sometimes, we visit abattoirs knowing fully well that a lot of cattle farmers rely solely on cash."
Yamah also told Sunday Tribune that POS agents whose machines were issued by certain commercial banks get cash from the said bank unlike their counterparts whose machines were issued by microfinance banks and online-based payment platforms.
Few agents in operation are groaning — Olojo
Reacting to the experiences of POS agents in the country over the last couple of months, AMMBAN, the umbrella body for all mobile money and POS vendors in the country accused the government of enforcing a cashless policy on a cash-dependent economy like Nigeria, noting that small businesses are the one bearing the brunt of the apex bank's decisions.
Olojo, while speaking on the issue, pointed out that the CBN policy and the attendant scarcity of naira notes had forced a lot of agents and small businesses out of operation while causing untold hardships on the general populace.
He described the hardships faced by the POS agents in the country as very "tough", "difficult" and "challenging" as the only "few agents in operation are groaning," adding that "all of these are a clear reflection of inefficiency or ineptitude of government down to CBN and the reason why all of these are coming out is because the government is ineffective."
While noting that there is no nationwide benchmark for the commissions charged on POS transactions, he urged the agents to "apply sense", put a "human face" to their services and "not take advantage of the moment" to fleece helpless Nigerians through "senseless charges."
"It is not defensible and it is abhorrent and unacceptable for agents to charge ridiculous amounts and that's why we've also told them that if your charge has become so astronomical, it's better to suspend your service. From where you get cash, if what they charge you doesn't make sense, it's better you don't get it rather than overcharging people.
"The reality is that many Nigerians don't know that the agents also struggle like them to get this money. They feel they all walk into the banks to get it as easy as that. No! They get cash just the way an average person struggles to get the cash that is not readily available," he said.
READ ALSO FROM NIGERIAN TRIBUNE