We may earn money or products from the companies mentioned in this post. please note that some of the links below are affiliate links, and at no additional cost to you, we will earn a commission when you use one of the links. The company pays us for referral link sharing, which helps us run this blog and give our in-depth content to our readers for free.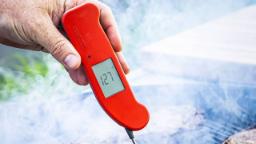 If you regularly cook meat at home, you know that a good meat thermometer can make all the difference. The Thermapen One earned its title as the best instant-read thermometer during our testing, and right now it's on sale in like-new condition.
Over the course of one month, we put 13 different meat thermometers through a series of tests to figure out which ones will make you the meat master and which ones you should skip. This trusted ThermoWorks model beat out the rest thanks to its speed and accuracy. The backlit display is easy to read and the digits automatically adjust their orientation when holding the thermometer vertically. Additionally, the hinged probe offers an effortless ergonomic design.
Our top pick for the best instant-read meat thermometer is $30 off right now during this Open Box special. These discounted thermometers work like new and include a full warranty. 
In all, the Thermapen One was the fastest and most accurate thermometer we tested, and had the easiest-to-read display. There's a limited supply of these discounted thermometers, so snag one now before they all run out.