We may earn money or products from the companies mentioned in this post. please note that some of the links below are affiliate links, and at no additional cost to you, we will earn a commission when you use one of the links. The company pays us for referral link sharing, which helps us run this blog and give our in-depth content to our readers for free.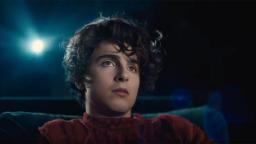 CNN
 — 

Timothée Chalamet seems pretty self aware.
The in-demand actor stars in a new campaign for Apple TV+ that has some fun with his mass appeal among young fans and puts Chalamet in the unusual position of feeling FOMO.
In the spot, Chalamet is shown wondering why fellow actors like Jennifer Lawrence, Selena Gomez and Jason Sudeikis have projects on the platform while he doesn't.
"Why don't I have a documentary?" Chalamet asks rhetorically in the spot.
Chalamet is later shown watching a commercial for the Apple drama "Severance." "Severance is weird … I can do weird!" he says.
Chalamet shared the ad on Instagram when it debuted last week and was flooded with comments, including one from Gomez who wrote, "LOL."
"This commercial is now a top runner for best pic at the Oscars," one person commented, while another wrote, "this is gold."
The spot ends with a closing shot of Chalamet lying on a bed.
"Hey, Apple," Chalamet sighs before pleading, "call me?"